Handcrafted perfume inspired by Doctor Who
All fragrances come with their own handmade fragrance card, perfect for gifts. check them out here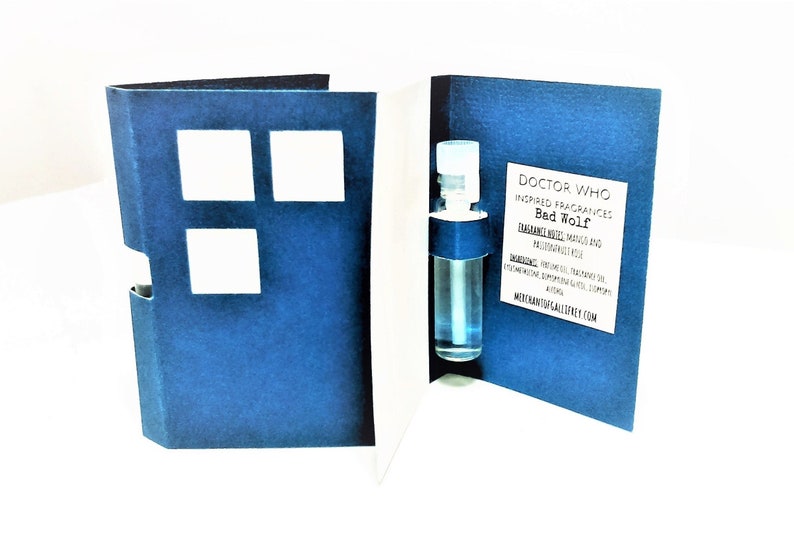 ▓ Choose From These Scents ▓
//Jelly Baby?// inspired by the 4th Doctor
fragrance notes: peach, papaya, jelly bean
//Time Lady// inspired by the 13th Doctor
fragrance notes: freesia, tuberose, vanilla, jasmine, pear, melon, lily-of-the-valley, magnolia, peach, rose, musk, plum, orchid, mandarin orange, violet, blackberry, bergamot, cookie dough, coriander, tonka bean, and cedar.
//Bad Wolf// inspired by Rose Tyler
fragrance notes: mango and passionfruit rose
//Come Along, Pond// inspired by Amy Pond
fragrance notes: blood orange, vanilla bean, grapefruit, orange blossom
//Spoilers…// inspired by River Song
fragrance notes: dark chocolate, vanilla, guava, waterlily, tiare flower, amber, apricot, tuberose, apple, mandarin orange, wood notes, lilac, and cacao.
//Impossible Girl// inspired by Clara Oswald
fragrance notes: cherry blossom, fudge, honey, and shea.
more to come!