The first wave of my Star Trek inspired hand-dipped incense is now available in the shop! These make perfect gifts for incense burning trekkies/trekkers.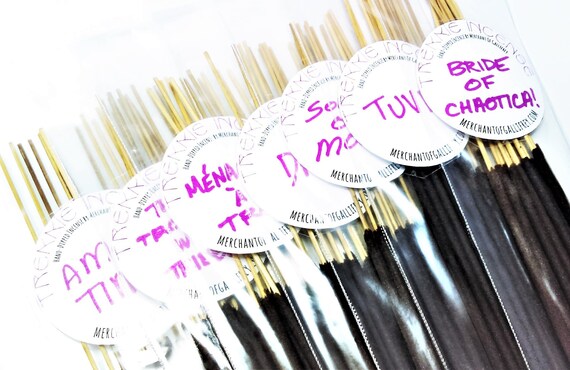 ◍ Choose From ◍
//Amok Time// – Pear, Clove, and Oud Wood
//The Trouble With Tribbles// – Coconut, Dulce De Leche, Marshmallow, Mryhh, Orange, Ginger, Cinnamon, Clove, Vanilla, Oak, and Caraway Seed.
//Ménage à Troi// – Chocolate Fudge
//Dax// – Mango, Lotus Flower, Roasted Coffee Beans, Sandalwood, Patchouli, Light Powder, and Bay Rum.
//Sons Of Mogh// – Leather, Roasted Oatmeal Stout, Roasted Coffee Beans, and Clove.
//Tuvix// – Jasmine, Amyris Sandalwood, and Pumpkin Soufflé
//Bride Of Chaotica!// – Cinnamon, Chai Tea, Sandalwood, Fresh Breeze, Patchouli, Ylang-Ylang, Pine Needles, and Fallen Leaves.
More to come!
Click here to check them out in the shop.