Hey gang,
I'm happy to announce that the 3rd wave of my Doctor Who inspired solid fragrances is now available in the shop! Collect the newest 5: Princess Of Tardis, 13 Paternoster Row, Harkness, Unearthly Child, and Geronimo! They are available in tubes, pots, and sample sizes (all except 'Harkness' which is only available in tube form at the moment).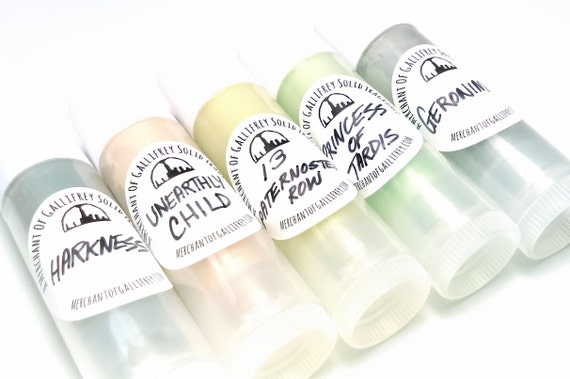 Here are the scent descriptions:
//Princess Of Tardis//
Inspired by Jo Grant.
Notes of: tulip, cranberry, rose, strawberry, apple blossom, carnation, sweet pea, hibiscus, red apple, and vetiver.
//13 Paternoster Row//
Inspired by the Paternoster Gang (Madame Vastra, Jenny Flint, & Strax).
Notes of: tonka bean, almond, chai, ginger, cardamom, clove, mandarin orange, guaiac wood, saffron, white chocolate, palmarosa, dark chocolate, cedarwood, sandalwood, lotus, pepper, cinnamon, nutmeg, and amber.
//Harkness//
Inspired by Captain Jack Harkness.
Notes of: agarwood, amber, osmanthus, cedarwood, sandalwood, sage, clove, incense, rose, tobacco leaf, leather, myrrh, cinnamon, pepper, labdanum, juniper berries, cardamom, nutmeg, cypress, saffron, jasmine, and opoponax.
//Unearthly Child//
Inspired by Susan Foreman.
Notes of: strawberry, vanilla cupcake, marshmallow, apricot, tuberose, bayberry, and white ginger lily.
//Geronimo!//
Inspired by the 11th Doctor.
Notes of: cedarwood, clove, leather, oakmoss, basil, patchouli, cardamom, cinnamon, coriander, lavender, nutmeg, musk, rosemary, marjoram, sandalwood, geranium, amber, caraway, bergamot, vanilla, rosewood, galbanum, petitgrain, and lemon.